Description
What is an air purifier?
Air purifiers work by filtering out potentially harmful airborne contaminants from the air. Such contaminants include gases, dust, and various odours that comes with everyday lifestyles.
Samsung air purifiers have a HEPA filtration system, which captures up to 99.97%** of 0.3 μm ultra-fine dust, inhibits the spread of captured bacteria***, and removes certain harmful gases*.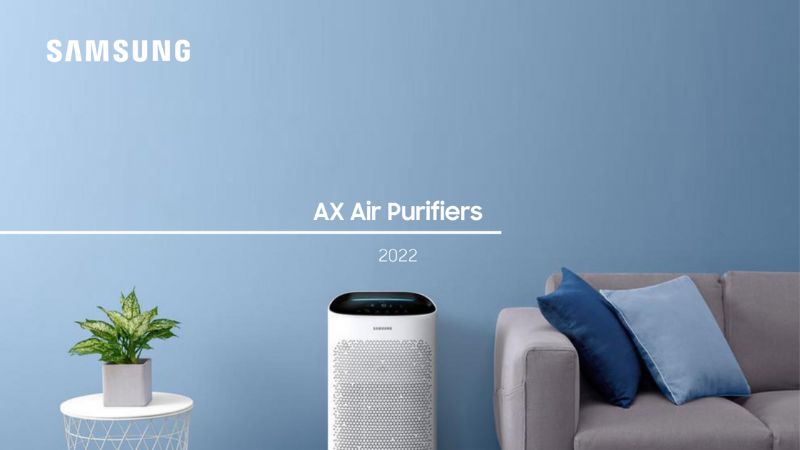 What do air purifiers do?
Air purifiers (also called air cleaners or scrubbers) use high-efficiency particulate air (HEPA) filters to remove 99.97% (H13 or H14) of aerosolized virus particles in the air. Consisting of a fan and a layered filter, they work effectively to clean the air of aerosols. They can provide an extra layer of protection in indoor settings where occupancy is high and there is an increased risk of airborne transmission.
*Tested on the AX80K7580WFD for toluene, xylene, benzene, ethylbenzene, styrene & formaldehyde gases in the National Test Institute of Korea. **The filter media has over 99.97%
dust collection efficiency, based on a particle size of 0.26μm, as specified by 42 CFR part 84. Tested in the National Test Institute of Korea. ***Tested on the filter media of the dust-collecting filter at the National Test Institute of Korea.
How do I know if I need an air purifier?
A carbon dioxide (CO2) monitor showing levels greater than 800 ppm indicates that indoor air is not being refreshed fast enough with outside air. Outdoor air ventilation of our spaces can be improved by opening windows/doors, creating cross ventilation, improving HVAC settings and filters – but air purifiers are an extra tool in our arsenal to further reduce the risk and to achieve effective air changes to where we need them to be. In a pandemic, we should aim for 4–6 Air Changes per Hour (ACH), or much higher if 90%+ clearance is desired. You can calculate your risk of airborne transmission by downloading the Queensland University of Technology's Airborne Infection Risk Calculator:
https://research.qut.edu.au/ilaqh/projects/particles-from-
respiratory-activities-and-infection-spread/
Things to avoid
Directional fans without any filtration that blow air from person to person could lead to unintended transmission.
It has also been shown to lead to super-spreader events https://www.sciencedirect.com/science/article/pii/S0360
132321001955, and; air cleaners with ionisers, plasma/ozone/photocatalytic oxidation/precipitators
, and UV purification or disinfecting add-ons. These are unproven/untested technologies, and in some cases
dangerous technologies, significantly degrading the air quality by producing ions, ozone and oxidation products.
Ozone and ions can trigger asthma so these technologies should be avoided.
The effectiveness of air purifiers
The role that air purifiers may have in reducing airborne contaminants or improving ventilation in high-occupancy buildings has been highlighted by Australian academics. An independent study conducted by the University of Melbourne in 2021
found that air purifiers dramatically increase the clearance rate of an airborne contaminant from a medium-sized room in under 10 minutes.
Evidence in the effectiveness of air purifiers
Case Study
The following is an abstract of the study on the efficacy of portable air cleaners on the clearance of aerosols. If you would like to read the full study, please let us know and we'll send through the article.
Objective:
To study the airflow, transmission, and clearance of aerosols in the clinical spaces of a hospital ward that had been used to care for patients with coronavirus disease 2019 (COVID-19) and to examine the impact of portable air cleaners on aerosol clearance.
Design:
Observational study.
Setting:
A single ward of a tertiary-care public hospital in Melbourne, Australia.
Why Samsung purifiers?
Award-winning Air Purifiers
"Samsung AX7500K (AX90T7080WD) scored the highest with an overall score 87/100 and the AX5500K (AX60T5080WD) overall score 76/100, both receiving a CHOICE Recommended status from our air purifier test in February 2022. The test criteria are; dust removal, smoke removal, removing volatile organic compounds (VOC), most energy efficient, noise and ease of use."